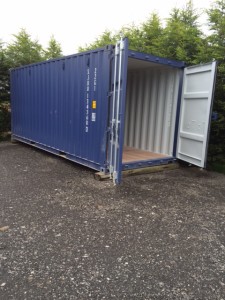 All our self storage storage containers are 'one-time' only used shipping containers making them virtually brand new and are 20ft (length) x 8ft (width) x 8ft (height) in size providing 1280 cubic feet of secure internal self storage within a heavy steel container that has a steel lock cover making it virtually impossible to cut or tamper with the door lock.
The self storage container roof is internally treated with 'Grafo Therm' which reduces the risk of the containers developing condensation or dampness.
Our containers are situated so that you can park right outside for easy loading and unloading and most anything can be stored in these secure containers with the exception of anything that is flammable or explosive in nature.
Please see our prices page for storage prices.